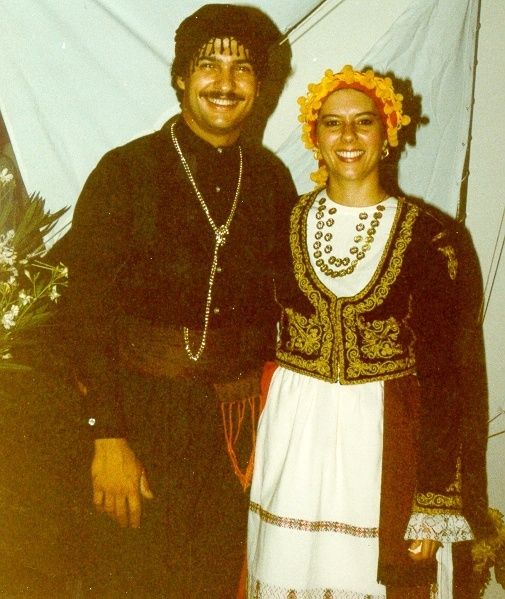 How Did it All Start?
The Minoan Dancers were created in 1986 by artistic directors Vasilis and Effie Fourakis at the Nativity of Christ Greek Orthodox Church in Marin County, California. It began as a passing request by a parishioner for us to teach a small group of high school students at the church. We met with the dancers and planned our rehearsals to prepare for our first performance as "The Minoan Dancers" at the 1986 Marin Greek Festival. We also contacted many of our friends whom we had danced with in the Alkmini Kouri Bloom Greek Dance Ensemble to form the adult group. Costumes were made or borrowed, choreographies were developed, music was obtained from all available sources and many hours were spent rehearsing. Our first performances were well received and we began planning for the 1987 Greek Orthodox Folk Dance Festival.
My Big Fat Greek Dance Group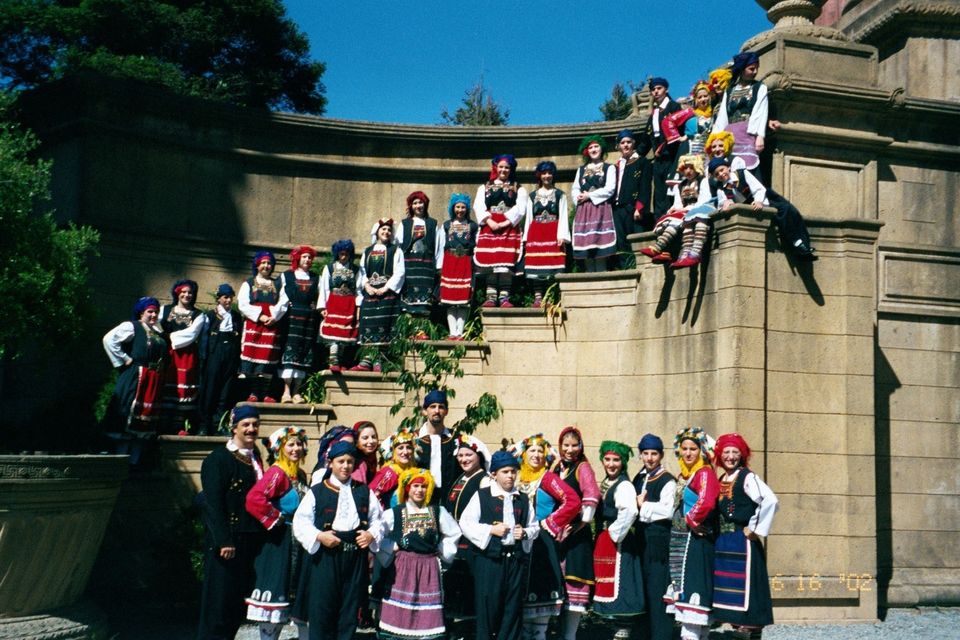 The Minoan Dancers are dedicated to the preservation and promotion of Greek culture and folk dancing in the San Francisco Bay Area and beyond. That is our official mission statement, and we really believe it. But we also exist because we all love to dance and we love our traditions. Through our activities and our performances we are able to pass our culture on to our children. In our group you see children and parents dancing together, sharing a common passion for Greek folk dancing.

Being a part of the Minoan community exposes the dancers, young and old, to all aspects of being Greek. One of the undeniable goals of the annual Greek Orthodox Folk Dance Festival that the Minoans and about 3,000 other Greek dancers attend, is for young Greek men to meet young Greek women, marry and have Greek babies (just like in "My Big Fat Greek Wedding"!). It is through Greek folk dancing that we met and married and our three children, Achilleas, Odysseas and Elektra, have carried on the tradition by performing with the Minoans. Through the Minoans, several other couples have met and married. Some have continued to dance and all are committed to having their children learn Greek dancing and perform.
FDF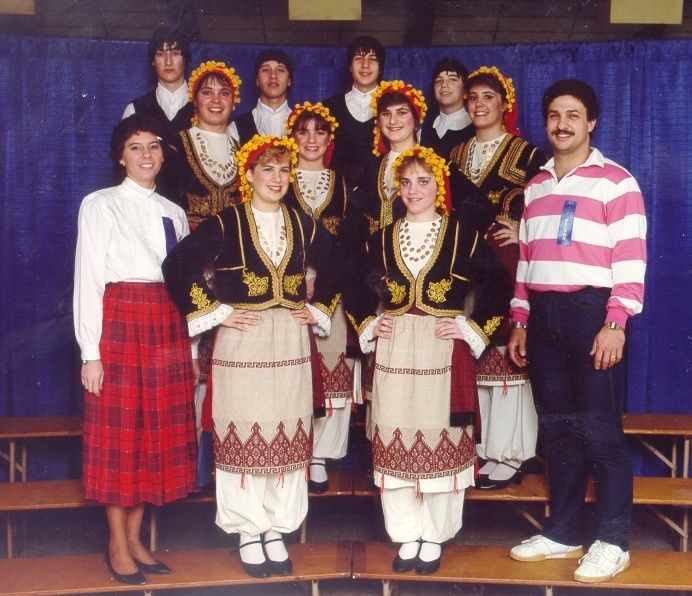 The First FDF
We did not know what to expect at our first FDF. We were ten dancers, two directors and six parents wearing homemade team T-shirts, from an unknown city in California. In 2020, thirty-three FDFs later, the Minoan Dancers are four dance groups, over 60 dancers from a very well known county in California.

Winning the Special Achievement Award at our first FDF began an awards Hall of Fame for the Minoans, highlighted by 3 Division II Sweepstakes Awards, 16 gold medals, 14 silver medals, 11 bronze medals, 17 fourth place awards, 11 costume awards, 2 choral awards, one Directors' award, 6 Special Achievement awards and 9 Division III participation awards.
FDF Hall of Fame
In 2007, Vasilis and Effie Fourakis received the FDF Heritage Hall of Fame Award for "Lifetime achievement in keeping the flame of Greek heritage alive."
What does it mean to be a Minoan?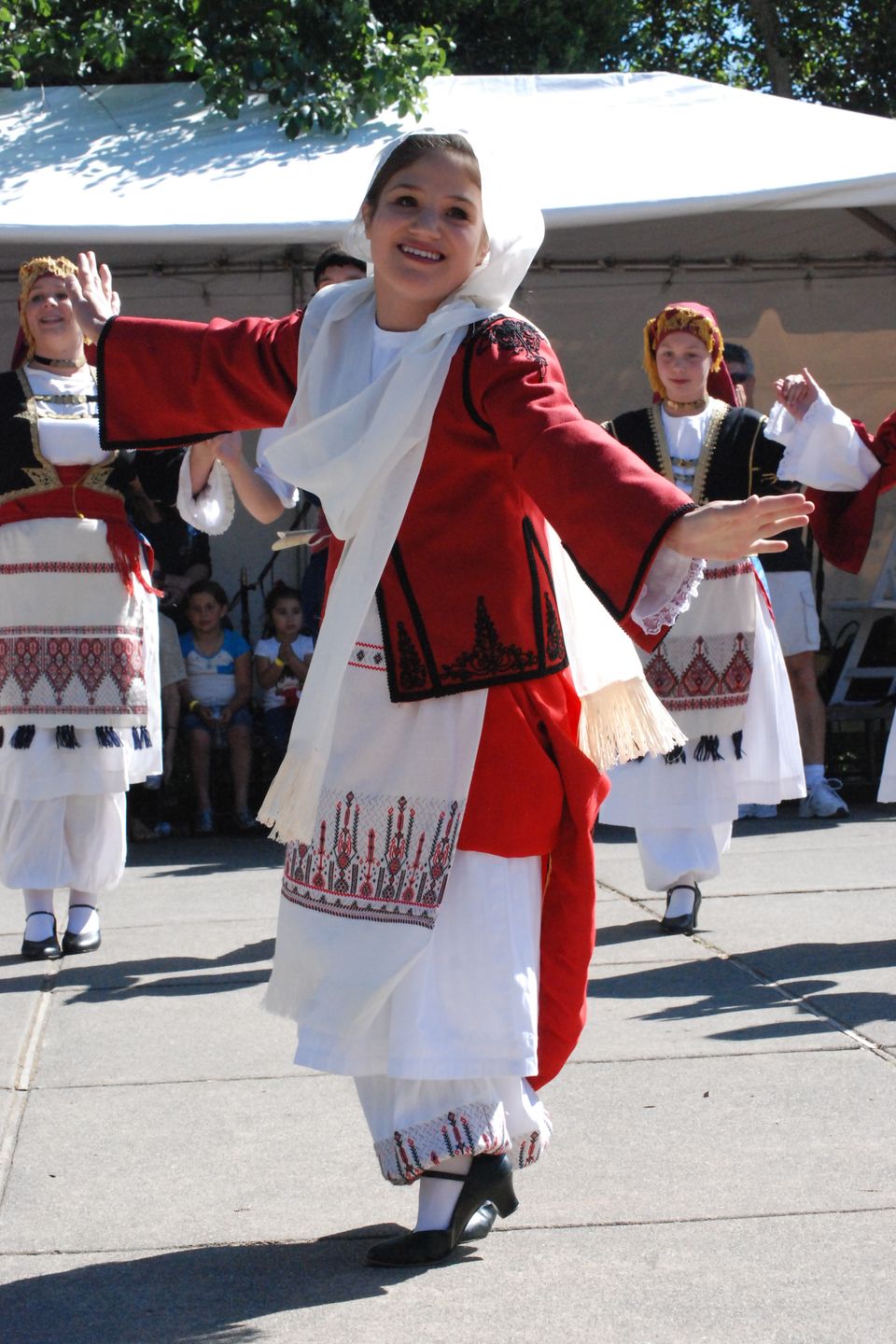 Being a Minoan means so much more than just being a dancer in a group. Being a Minoan means belonging to a community of dancers who dance, rehearse and travel together, who celebrate joyous events together and support each other during troubled times.

When our daughter Elektra was born in 1997 with a life-threatening heart defect, the Minoans rallied their support through prayer. Not a dancer wanted to dance and the program stopped temporarily. When Elektra pulled through her first open-heart surgery at 3 months old, the community rejoiced and the group came back stronger and better than ever. Twice the Minoan community has responded to our call to raise money for the American Heart Association through two bike-a-thons we organized. Over $23,000 was raised by the Greek community of Marin County, but mostly by the Minoans!

In August 2020, in the midst of the global pandemic, our Minoans and Nativity parish family again came to our support, this time as we grieved the sudden, unexpected loss of our beloved Elektra. Working together with our parish priest Father John Kocolas, the community ensured that Elektra's funeral services were beautiful and special, just like her. Due to Covid restrictions, Elektra's funeral services were aptly held on the dance floor of the Marin Greek Festival, where she performed and shined each year. Officiating at her funeral services were His Eminence Metropolitan Gerasimos of San Francisco, Father John and several other Bay Area priests who knew her through FDF. Minoans and parishioners offered donations in her memory to our parish and to Elektra's favorite charity, Camp Taylor, a medically supervised summer camp for kids with heart defects. The camp is building its own campus in Modesto, California, for future heart warriors like Elektra. May her memory be eternal ❤️
Performances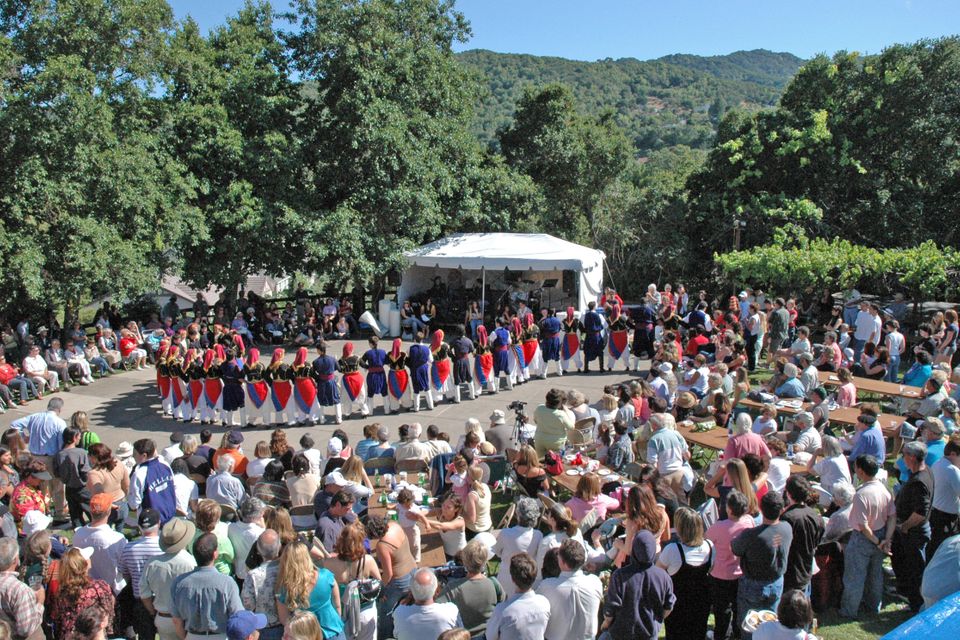 The Minoan Dancers have performed throughout California at events such as the Marin Greek Festival, other church festivals, the Marin County Fair, charity functions and retirement homes, and at celebrations of Greek national holidays. The Minoans have performed at the prestigious San Francisco Ethnic Dance Festival at the Palace of Fine Arts Theater for 8 seasons, presenting Cretan dances four times, Thracian dances three times and dances of Pontos one year.

All together over the past 35 years we have participated in over 300 performance events, 35 fundraising events (including 18 years managing the popular Gyro Booth fundraiser at the Marin County Fair), and 20 social events. More than 200 dancers have participated in the program including parents, their children and grandchildren.
Productions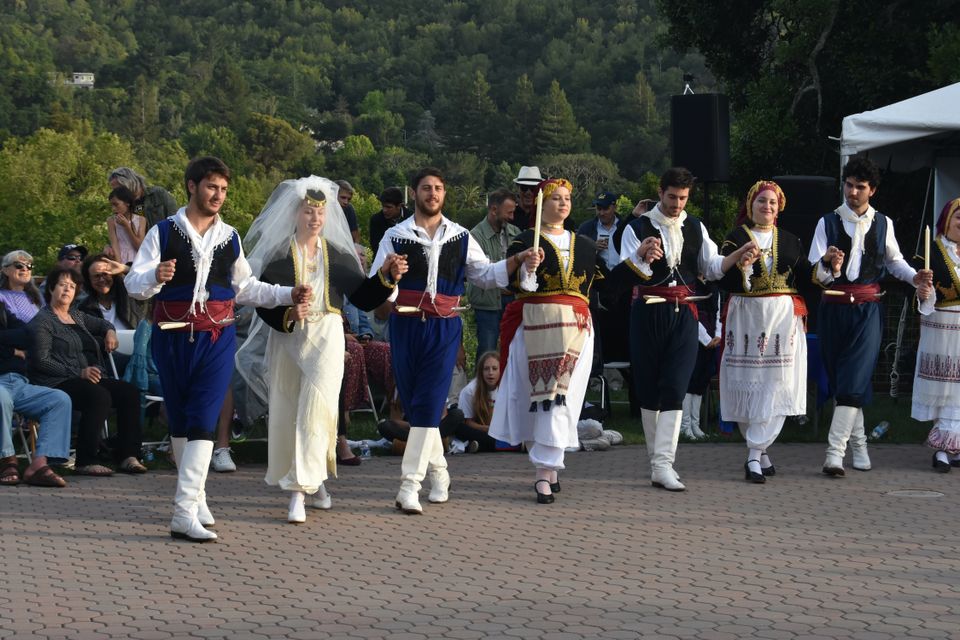 In 1991, the Minoans produced a multi-media slide, music and dance presentation on the history of Greece, "Remembrance of Things Past," which was presented at the Showcase Theater of the Marin Civic Center and at the Scottish Rite Theater in San Francisco.

In 2000, the Minoans produced a multi-media show on the history of dance in the island of Crete. The presentation chronicled 4000 years of Cretan dance, back to the times of the Minoan civilization in 2000 BC. The stage was set with beautiful recreations of the Minoan frescoes by artist Victoria Gerginis.

The Minoans have presented shows on the history of Greece several times at the Marin Greek Festival, including the historic dance Horos tou Thesea, depicting the defeat of the fierce Minotaur from the labyrinth at Knossos, and the Horos tou Zallogou, reverently depicting the sacrifice of the women of Souli when threatened by the Ottoman Turks, danced by Minoan moms. The Minoans have also presented a Pontic-Cretan wedding and a wedding from Thrace.
Return to Our Roots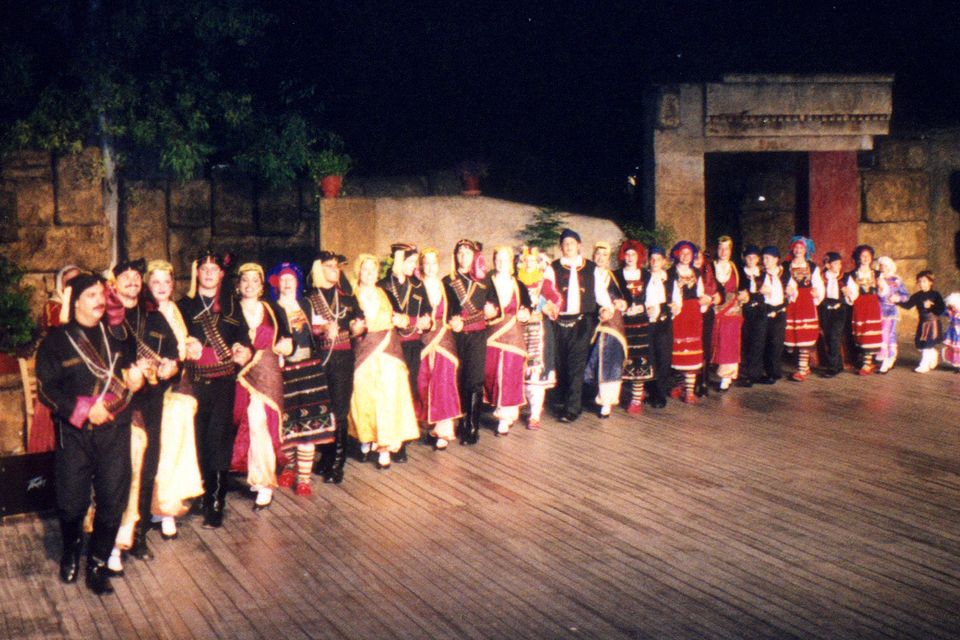 The Minoans have traveled to Greece four times to perform, during the summers of 1994, 2001, 2003 and 2007. They performed at the historic Dora Stratou Theater in Athens, in the Peloponnese and in Crete. The dancers traveled throughout the country, and were able to experience first-hand the culture behind the dances that we have come to love.

In August 2001 the Minoans were invited by His Eminence Metropolitan Anthony of Blessed Memory to perform at his village in Avyeniki in Crete.
Dances from all over Greece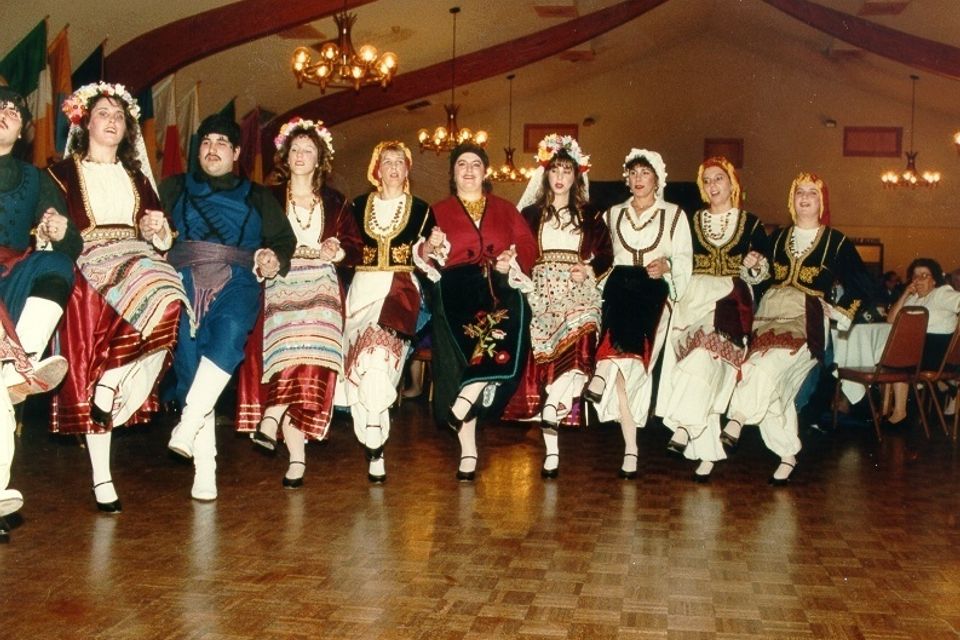 Our repertoire of dances has expanded over the years, with many thanks to the late Paul Ginis of the Greek American Folklore Society of New York, to Joe Kaloyianides Graziosi, Nikos Savvidis and Yiannis Tsouchlarakis.

The Minoans are proficient in the styling and steps of dances from several areas of Greece including the islands of Crete, Naxos, Andros and Karpathos, and the mainland regions of Thrace, Thessaly, Epiros and Pontos.
Costumes from all over Greece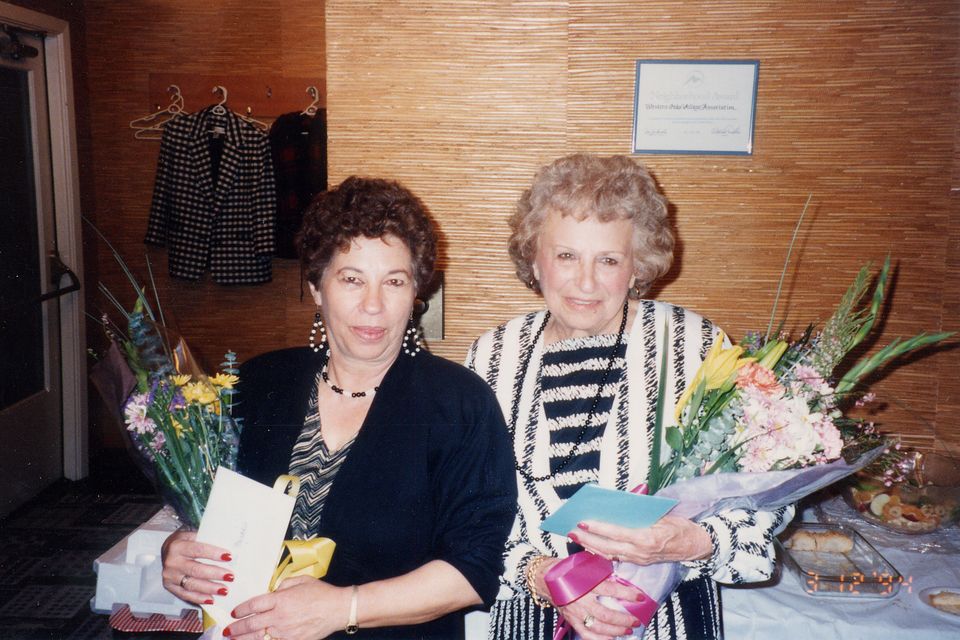 The Minoans' costumes are extensively researched and are authentic replicas of costumes worn by Greek villagers. Many thanks go to the late Loula Fourakis for her expert seamstress and pattern-making skills and to the late Lilly Papas for the long, tireless hours spent sewing sequins, applying trim and embroidering. May their memories be eternal.