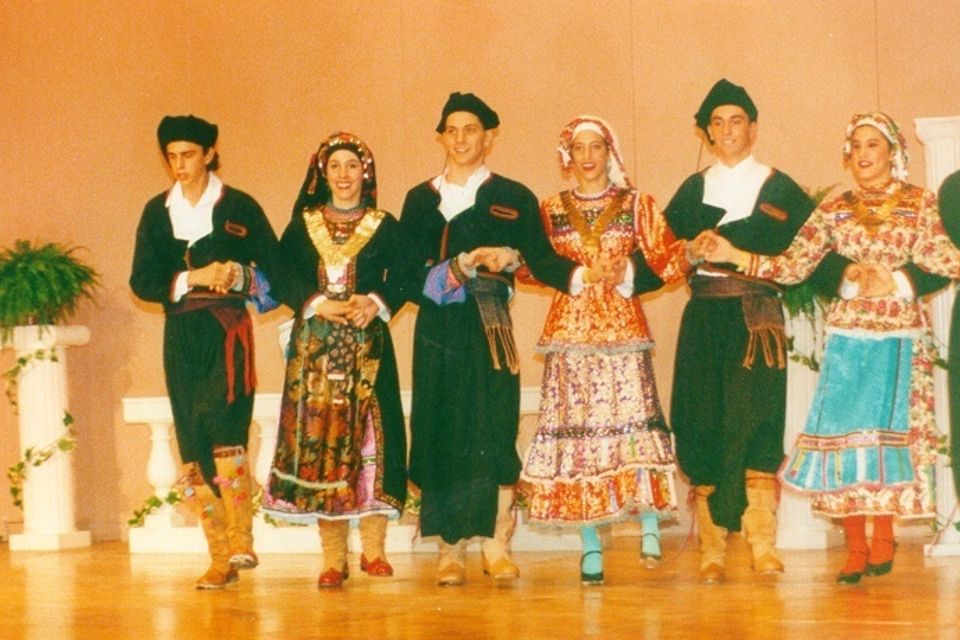 Womens' Karpathos Costume
Village of Olymbos
The village of Olymbos is located high in the mountains of the island of Karpathos, one of the Dodecanese islands of Greece. The majority of the men of the village are sailors and spend most of their time away from the village, traveling around the world. This leaves the women to attend to the everyday chores in the village including keeping house, attending the flocks, planting, and harvesting. Olymbos is a matriarchal society and each family's fortune is presented as a dowry to the eldest daughter when she marries.

The woman's costume consists of the sakofoustano which is the pleated skirt and blouse made of brightly colored brocade fabric and decorated with sequins and ribbons of many different colors. The brocade fabric is brought from the Orient to the women by their husbands. When a woman marries, she wears a black overcoat (the kavai) over the sakofoustano. The kavai is lined with white cotton fabric and embroidered around the edges. The right corner of the kavai is raised and tucked into the belt (zoni) to show a portion of the sakofoustano. The podia or apron is worn over the kavai and also made of brocade fabric decorated with sequins and ribbons.

The black mandili or head scarf, upon which a design of bright flowers has been stamped and which is rimmed with beads and sequins, is worn by married women while young girls wear white mandilia. The women wear their hair in two long braids, plexoudes, which they decorate with beads and yarn. The boots are made of soft lambskin and are intricately embroidered. These boots can only be made during the springtime when the lambs are killed for the Easter celebration. Young girls wear embroidered slippers with brightly colored stockings (kaltson). Around their necks the women wear chrises lires (golden coins), which are a part of their dowry.